Which Industries Is Dry Ice Temperature Data Logger Suitable For?
Author:freshliance2023
2023-08-16
In many fields, such as biopharmaceuticals, food transportation, and scientific research, because they are very sensitive to temperature, if the temperature is too high or too low, their quality and safety will be affected. In order to ensure that items are stored and transported under suitable temperature conditions, cold chain technology is often used for processing, and Dry Ice Temperature Data Logger is also used because it can monitor the ambient temperature in real-time and is highly sensitive to temperature. A slight change will respond, so it is very common in the cold chain of some temperature-sensitive items.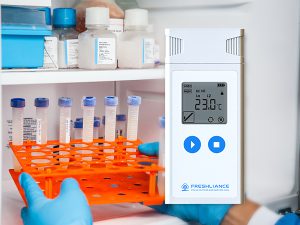 As an advanced instrument, the dry ice temperature recorder provides us with accurate and reliable temperature monitoring, thus ensuring the quality and safety of items. Different industries have different requirements for cold chain temperatures. The Atlas Log-IUT Multi-use Dry Ice Temperature Data Logger developed and produced by Freshliance has a temperature monitoring range of -90°C~70°C. This product has an LCD display to view the cold chain environment. The real-time, minimum, and maximum temperature conditions can be set with an alarm function. When the temperature exceeds the preset range, an alarm will be issued to remind the user to adjust in time. This product is widely used in medicine, pharmacy, vaccine, biotechnology, and other industries, because these industries are very sensitive and accurate to temperature, and the dry ice recorder happens to be an instrument with high sensitivity and high precision. It can help solve the monitoring and recording of ambient temperature in the cold chain process in these fields, and this product is cheap and cost-effective.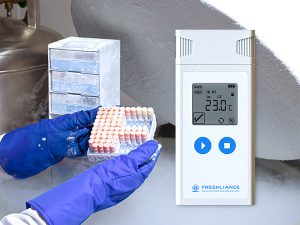 As a more advanced product of modern temperature monitoring technology, Dry Ice Temperature Data Logger is currently very popular in the cold chain industry, especially in biopharmaceutical, biotechnology, vaccine reagent, and other industries. As a professional manufacturer of temperature data loggers, Freshliance provides more efficient and intelligent temperature monitoring solutions for various industries and promotes the development and progress of related fields.