How Much Is The Cold Chain Container Temperature Data Logger?
Author:freshliance2023
2023-08-17
With the continuous development of global trade and the increasingly convenient logistics and transportation, cold chain containers, as the key equipment for fresh food transportation, play an important role in the cold chain transportation of fruits, vegetables, meat, seafood, and medicine. Nowadays, container cold chain technology is becoming more and more advanced. Cold chain container temperature data logger is often used in container cold chain transportation. It is a device specially used for temperature monitoring and recording during cold chain transportation, ensuring the quality and safety of cold chain items. Safety.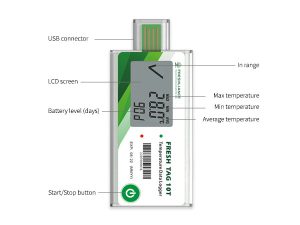 A cold chain container is a container with heat preservation, refrigeration, and monitoring functions. The internal equipment is used to control the temperature of the goods to ensure that the goods maintain a suitable temperature during the entire transportation process. The Cold chain container temperature data logger is small and practical, takes up little space, and is cheap. It is very suitable for monitoring the temperature and humidity of refrigerated containers. The Fresh Tag 10T Single Use Temperature Data Logger launched by Freshliance is a one-time use product, it has an LCD display, you can check the temperature at any time, the screen can display the instant temperature, maximum temperature, minimum temperature, average temperature, alarm time As well as the power, if you need to know the temperature of the cold chain container, you only need to check the display screen of the device. Considering the different cold chain itineraries, Freshliance has also launched recorder models with different days, which can work for up to 120 days. Users can choose the appropriate model according to their needs. Our company has prepared waterproof packaging for Fresh Tag 10T, so you don't have to worry about the performance of the device being affected by moisture or water ingress during transportation.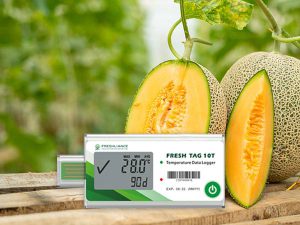 Through the monitoring and control of temperature and humidity, cold chain containers can ensure the quality and safety of goods during transportation. Choosing a suitable cold chain container temperature data logger to monitor and record the temperature and humidity will not only ensure the quality of the items but also analyze the temperature and humidity changes during the entire transportation process after the trip. Freshliance is a manufacturer dedicated to temperature and humidity data loggers, with high product quality standards, perfect and reliable performance, cheap and affordable, and trustworthy!