Where Can I Buy A Grape Temperature Logger?
Author:freshliance2023
2023-09-25
Grapes are a popular fruit, loved both for their taste and nutritional value, whether as a snack or used to make wine. Grapes are particularly susceptible to deterioration at room temperature, so low-temperature refrigeration is required to inhibit the production of ethylene, which affects the quality and taste of the grapes. Therefore, they need to be refrigerated and transported quickly after picking. During the transportation and storage of grapes, professional temperature monitoring equipment is required, such as a grape temperature logger to monitor the temperature and humidity of the grape cold chain environment, so as to ensure the quality and taste of the grapes.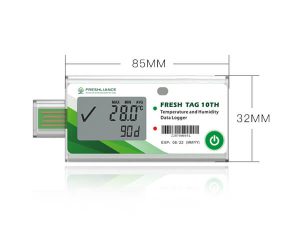 Grapes are very sensitive to changes in temperature and humidity. Throughout the cold chain process, it is necessary to ensure that the temperature and humidity are within an appropriate range. Through real-time monitoring and data recording, problems can be discovered in time and corresponding measures can be taken. There are many instruments on the market today that can be used as grape temperature loggers, but the Fresh Tag 10 TH Single Use Temperature and Humidity Data Logger launched by Freshliance is a cost-effective device that can simultaneously monitor and record the temperature of the grape cold chain environment. humidity conditions. It has an LCD display, through which you can directly check the real-time temperature and humidity of the grape cold chain environment, the highest temperature and humidity, the lowest temperature and humidity, and battery power and other equipment conditions. You can check the ambient temperature at any time without removing the packaging. Humidity, if there are large changes, will also help to adjust the cold chain temperature and humidity more quickly. This temperature data recorder can be used for up to 120 days and has a relatively large data storage capacity. It can store up to 65,000 data in PDF format and 20,000 data in PDF and CSV format. It can help the grape cold chain supply chain establish a complete cold chain traceability system. , to track temperature and humidity conditions during the transportation and storage of grapes.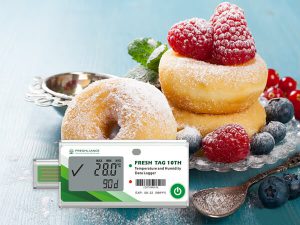 Grape cold chain management is very important to ensure the quality and freshness of grapes. Controlling temperature and humidity during transportation and storage, and conducting real-time monitoring and recording of temperature and humidity will help reduce grape loss and improve their quality. The grape temperature logger produced by Freshliance can meet the existing market demand. Its high accuracy and high sensitivity can ensure the reliability and authenticity of the temperature and humidity data of the cold chain environment. Moreover, it is small in size and does not take up much space. It can be widely used in Refrigerated containers, refrigerated trucks, refrigerated bags, and refrigerated cabinets to provide consumers with fresh and healthy grape products.