What Are Disposable Temperature Indicators?
Author:freshliance2023
2023-10-07
A temperature indicator is a device or tool used to measure the temperature of an object or environment. They usually display temperature information in the form of numbers, graphics, or colors. The disposable temperature indicators mean that the instrument can only be used once. If the use time exceeds, that is, the battery power is exhausted, it cannot be used again. With the development of technology, temperature indicators are used in more and more fields, such as food, medicine, vaccine reagents, chemicals, plants and flowers, farms, etc., which can be used for temperature monitoring. They can accurately record the ambient temperature and help Users with data analysis.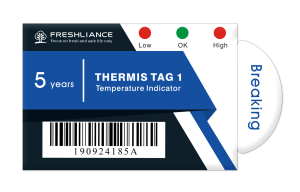 Nowadays, the volume of trade exports is increasing. Food, medicine, etc. are all items that are sensitive to temperature. During long-term transportation or storage, temperature changes will affect the quality or safety of the items. Therefore, we must make corresponding arrangements for different items. Cold chain management can ensure the safety and quality of items. Cold chain management is inseparable from temperature monitoring. Good temperature monitoring and recording will be of great help in tracing the environmental temperature of items. Freshliance produces many types of disposable temperature indicators, mainly divided into AlertTag T10, AlertTag T20, Thermis Tag 1, etc., which are divided into different models according to the number of days of use. Because different users have different requirements for cold chain management time, choosing the appropriate number of days can Save more costs. Among them, AlertTag T10 and AlertTag T20 have LCD displays, through which the maximum and minimum temperatures, current temperature values, and alarm status can be viewed for better temperature adjustment. All three can be easily configured with high and low-temperature alarm ranges, making them ideal temperature monitoring and logging products for monitoring shipments of vaccines, proteins, or any temperature-sensitive product.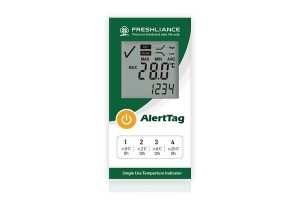 Regardless of the type, disposable temperature indicators play an important role in all walks of life, helping people monitor and record temperatures and ensure the quality standards and safety of items. As a manufacturer specializing in the production of temperature recorders, Freshliance launches every product that is also in demand in the market. We must ensure that the products are easy to use, practical, of excellent quality, zero faults, with advanced and complete performance, and at reasonable and favorable prices, so that more people can Customers in cold chain storage or transportation use our recorders!