Cold Storage Usb Temperature Logger
Author:freshliance2023
2023-10-06
With the development of modern logistics and supply chains, cold storage plays a vital role in the food industry. Temperature is an important factor affecting food quality and safety. Many foods need to be stored for a long time, but if the temperature is too high or too low, their quality may be affected. Therefore, food is generally stored in cold storage, which can extend the shelf life of food. Different foods have different temperature requirements for cold storage. Meat generally needs to be frozen at a temperature below zero, while vegetables, fruits, etc. may require higher temperatures. Therefore, ensuring the stability and monitoring of cold storage temperatures has become the key to ensuring food safety. One of the measures. Cold storage USB temperature logger is a very important device for cold storage temperature monitoring and recording. It can help promptly detect and correct temperature abnormalities, ensure food quality, and prevent the spread of food-borne diseases.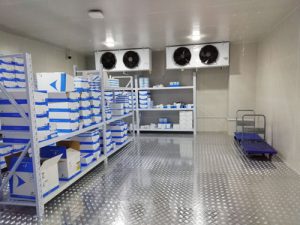 Cold storage is widely used in the food industry, especially in the storage and distribution of perishable foods such as frozen foods, fresh fruits and vegetables, and meat and dairy products. They are also used in pharmaceutical, chemical, biotechnology, and other industries to maintain cold chain conditions for specific items. Cold storage temperature monitoring is a key measure to ensure food safety and quality, and choosing the right equipment can save more costs. Fresh Tag 1D LCD Single Use Temperature Data Logger is one of the Cold storage USB temperature loggers. It has a USB plug. After the temperature monitoring is completed, it can be plugged into a computer or mobile phone. It will automatically generate an irreversible temperature data report, which is helpful Analyzing historical temperature data is a good way to trace whether the quality and safety of items in cold storage is affected by temperature. This temperature data logger also has an LCD display. During the operation of the equipment, the temperature data in the cold storage, as well as the maximum temperature, minimum temperature, average temperature, etc., can be displayed more clearly and intuitively through the display. All equipment The situation can be seen directly without unpacking. Temperature abnormalities can be detected and dealt with in time and appropriate measures can be taken, so it is very convenient to use.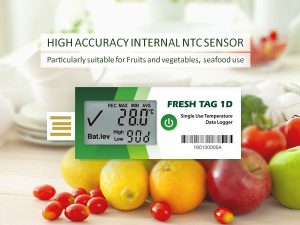 There are many types and models of temperature data loggers used for cold storage temperature monitoring on the market today. Cold storage USB temperature logger can not only accurately monitor the temperature of cold storage, but it is also cheaper, takes up less space, and can be directly attached to the outside of items. Packaging or direct contact with items for monitoring. Freshliance is a manufacturer that specializes in R&D, production, and sales of USB temperature loggers. Its functions, performance, and quality have reached the level of use in cold storage and other places that require cold chain temperature monitoring. It is very cost-effective!