Vaccine Temperature Data Logger With Probe
Author:freshliance2023
2023-10-18
Vaccine is an important item in the prevention and control of infectious diseases, but its effectiveness and safety depend on correct storage and transportation conditions because it is easily affected by changes in temperature that affect its quality and activity. Vaccine storage temperature is one of the key factors to ensure vaccine quality. Generally, professional cold chain management is required for production, storage, transportation, distribution, etc. In order to ensure that the vaccine is always in a constant and appropriate temperature environment, professional cold chain management is required. The temperature data logger performs professional and real-time temperature monitoring of the vaccine environment. The temperature data logger with probe is an ideal product for cold chain temperature monitoring of vaccine storage or transportation.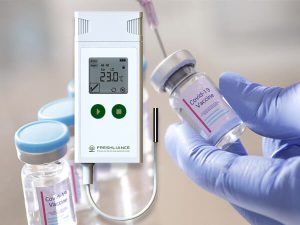 There are currently many types of vaccines around the world. When making a temperature monitoring plan for vaccines, the optimal storage temperature of the vaccine needs to be considered. Common childhood immunization vaccines and influenza vaccines are stored at 2-8 degrees Celsius, and some influenza vaccines can also be stored at freezing temperatures. Atlas Log-90 Ultra Low Multi-use Temperature Data Logger is a temperature data logger with probe. The length of the external probe can reach 2 meters. It can measure temperatures from -90 to 200°C with an accuracy of ±0.5°C. Just move the probe. By measuring the temperature in different areas, the measurement range will be wider and the temperature data will be more reliable, so both the accuracy and the lowest measurable temperature are ahead of the industry. Atlas Log-60 has an LCD display that can display the current temperature, and can also display all parameters, operating status, alarm status, battery power, alarm points, maximum, minimum, and average temperature values, etc., the data that users want to know Basically you can view it directly. If you want to generate a temperature data report after monitoring, Atlas Log-60 also has the function of recording and storing data. The PDF format can store a maximum of 35,000 readings; the PDF and CSV formats can store a maximum of 20,000 readings. Plug it into a computer or mobile phone. It can be generated directly, which is very helpful for vaccine storage or transportation management analysis and quality and safety assurance.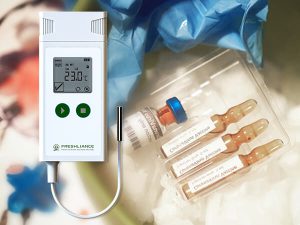 Ensuring the stability and consistency of vaccine storage temperatures is a challenge, and in some areas, especially remote areas or developing countries, this may lead to temperature fluctuations or inappropriate storage conditions that affect vaccine quality. Nowadays, there are many pieces of equipment for vaccine transportation or storage. In addition to large refrigerators and freezers, there are also small thermostats that can be used for vaccine storage and transportation. The temperature data logger with probe provided by Freshliance has very high sensitivity and accuracy. It is very suitable for vaccine temperature monitoring. It takes up little space and can be used in large freezers, cold storage, or small vaccine incubators. It is very convenient. Simple and cheap!