Cheap Temperature Indicator for Dairy
Author:freshliance2023
2023-10-17
Dairy products are one of the important foods that are indispensable in people's daily diets. There are many types of dairy products, and different types of dairy products have different temperature requirements. For example, pasteurized milk is 2℃~6℃ or 1℃, and then The temperature for making dry cheese is 1℃~6℃, fermented milk is 2℃~℃, cream is 1℃~4℃, etc. Therefore, different dairy products require cold chain management under different temperature conditions during storage or transportation. The Temperature Indicator for Dairy launched by Freshliance can accurately monitor and record the temperature of the dairy cold chain environment, ensuring that dairy products are always kept at a constant temperature. Under a suitable temperature environment, quality standards are guaranteed.
Dairy products are perishable foods with high-temperature requirements. During production, processing, storage, and transportation, maintaining appropriate temperatures is a key factor in ensuring the quality and safety of dairy products. Cold chain management and temperature monitoring are both critical for dairy products. Temperature Indicator for Dairy is a device that can monitor and record temperature data in real-time, such as the AlertTag T10 LCD Disposable Temperature Indicator, which has a large LCD screen that can clearly display the real-time temperature of the dairy environment. This product can set four alarm points when the ambient temperature exceeds When the temperature is preset, the corresponding alarm points 1, 2, 3, and 4 will be displayed on the screen for alarm. Temperature abnormalities can be detected in time, measures can be taken to prevent temperature fluctuations from causing damage to dairy products, and temperature data during the cold chain process can also be provided. Support to help companies evaluate the reliability and stability of cold chain transportation. These temperature data loggers are small, thin, and light. They can be directly attached to the package to monitor the temperature. They are very simple and convenient to use.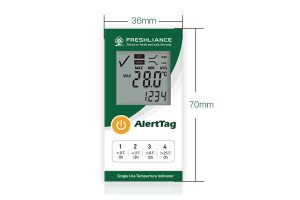 The development of temperature data loggers technology has brought many conveniences to dairy cold chain management. Accurate and reliable temperature monitoring and good records ensure the quality of dairy products during storage and transportation. The Temperature Indicator for Dairy launched by Freshliance has mature technology, complete functions, and is cheap. It can help companies evaluate the reliability of cold chain transportation and provide early warning and problem-solving capabilities. We are also wholeheartedly cooperating with more companies to provide better technical and equipment support for the development of cold chain technology!