Refrigerator Bluetooth Temperature Logger Model
Author:freshliance2023
2023-10-12
Refrigerators are an important piece of equipment commonly found in modern homes and commercial establishments, used to store and preserve food, medicines, and other perishable items. The refrigerator must always maintain a constant appropriate temperature to ensure that items do not deteriorate because food and medicines are easily affected by temperature and deteriorate. Because it is necessary to ensure that the temperature is constant and suitable, temperature monitoring in the refrigerator is indispensable. According to professionals, the Refrigerator Bluetooth temperature logger is very suitable for this kind of closed-space temperature monitoring. It can directly view the data without removing the packaging and Plug it into your computer to generate reports, simple and convenient.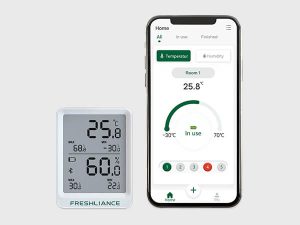 A Refrigerator is a closed storage space that extends the shelf life of food and other items by controlling temperature and humidity. Temperature monitoring is one of the key measures to maintain the performance of the refrigerator. By monitoring the temperature of the refrigerator through temperature loggers, we can detect temperature abnormalities in time and make temperature adjustments. TH20 HACCP Bluetooth Temperature and Humidity Data Logger is a cost-effective Refrigerator Bluetooth temperature logger because it can use Bluetooth technology to connect to a mobile phone. You can directly view the real-time temperature of the cold room and the equipment on the mobile APP from ten meters away. In working condition, you no longer need to enter the refrigerator room to check the temperature, which is very convenient. TH20 is an instrument that can monitor both the humidity and temperature of the refrigerator room. The errors of temperature and humidity are ±0.5℃ at full range (-30℃ to +70℃), ±3.0%RH respectively, and the accuracy is very high. There are generally two types of cold storage rooms, one is a household refrigerator with a cold room, and the other is a large cold room in supermarkets, shopping malls, hotels, etc. These places can use the Bluetooth temperature logger, and it can be quickly set up through mobile phone parameters, if the temperature of the refrigerator compartment exceeds the preset range during work, you will receive a notification reminder on your mobile phone, and you can make timely adjustments to the temperature of the refrigerator compartment.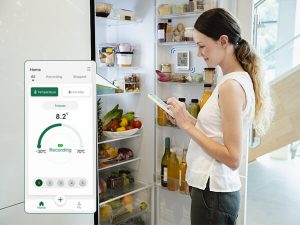 The Refrigerator Bluetooth temperature logger is a portable device that can monitor and record temperature changes in a refrigerator room. It can help cold room staff detect and solve temperature abnormalities in time to ensure the quality and safety of food and other items. The cold room temperature logger launched by Freshliance can monitor the temperature in real-time. After the work is completed, it can also generate detailed PDF or CSV reports and analyze the temperature curve to understand the performance and temperature fluctuations of the cold room.