Temperature Data Logger With Pdf
Author:freshliance2023
2023-10-13
With the continuous development of technology, temperature data logger is becoming more and more important in many fields. Whether in fields such as medical care, food safety, environmental monitoring, or laboratory research, accurately recording and monitoring temperature changes is critical to ensuring product quality and safety. The temperature data logger with pdf can generate an unmodifiable temperature data report in pdf format after the equipment is finished working. It has two main functions. The first is to analyze the environmental temperature changes in the entire cold chain process; the second is to Traceability of items for quality assurance. With good temperature data analysis, investors can be more assured of the quality of items.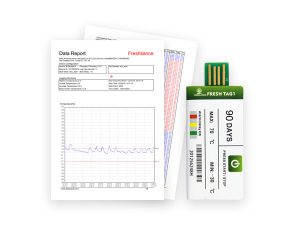 Food, medical, and other industries attach great importance to the analysis of historical temperature data after the end of the cold chain, because these fields are very sensitive to temperature. Later, based on the temperature data, it can be analyzed whether the quality of the items meets the requirements; if there is a problem with the quality of the items, it can also be analyzed from At what time period does the temperature data analysis have problems? The Fresh Tag 1 USB Temperature Data Logger launched by Freshliance is a temperature data logger with a PDF. It has a built-in PDF file generation function. By inserting the recorder into a PC through the USB 2.0 interface, an unmodifiable PDF format data report can be generated. Currently, the device can generate temperature data reports in PDF/CSV/PDF&CSV format. Depending on the report format, the amount of temperature data it can store is also different. It can store up to 129,600 temperature data. Users can set the data report format according to their needs. The temperature data monitored and recorded by Fresh tag1 has relatively high accuracy and reliability. It is very effective for temperature monitoring and recording of agricultural products, dairy products, seafood, meat, poultry, pharmaceutical vaccines, and flower products.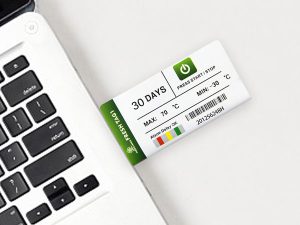 Temperature data loggers with PDF functionality are an essential tool for modern temperature monitoring, simplifying the process of data recording and management. The temperature data logger with pdf provided by Freshliance provides an efficient, accurate, and reliable temperature monitoring solution for temperature monitoring and recording in food, medical, chemical, and other environments by automatically recording and storing temperature data, generating visual reports, and being portable and lightweight. If you want to know more details about the temperature data logger, you can consult online customer service or leave a message, and we will answer you in time!