Fresh Tag 1 shipping temperature recorder
Author:freshliance2023
2023-11-16
With the development of the transportation industry, more and more items can be exported all over the world, but many items are easily affected by temperature and deteriorate. Therefore, cold chain technology and temperature monitoring are used during the transportation process to ensure that the items Maintain a suitable temperature during transportation. A shipping temperature recorder is an indispensable device for temperature monitoring of containers, refrigerated cabinets, and refrigerated trucks. It can be used for temperature monitoring and recording during transportation and storage of temperature-sensitive items such as food, medicine, and biological products to ensure that the items are within the required temperature range. keep it steady.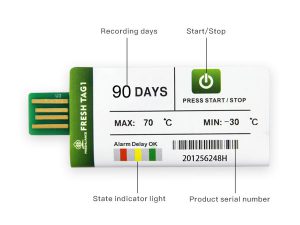 During the transportation of goods, the temperature of the goods can be monitored and recorded in real-time through the temperature monitoring system. These systems can provide alarm functions so that timely measures can be taken to prevent damage to cargo when temperatures are abnormal. Freshliance is very familiar with the transportation industry and cold chain technology. Our shipping temperature recorder has been widely used for temperature monitoring and recording of sensitive items such as food, medicine, biopharmaceuticals, vaccine reagents, etc., with high accuracy, high precision, and high stability. Features. Fresh Tag 1 USB Temperature Data Logger is a shipping temperature recorder with a compact design and simple operation. It is mainly used for temperature monitoring and recording of items. Before leaving the factory, we can set parameters according to user needs, such as recording intervals and alarm temperatures. Range, etc., users can turn on the phone and use it directly after getting it. After the transportation trip, you only need to plug Fresh Tag 1 into the computer to generate an ambient temperature report during the entire transportation process. There is no need to install any software, so it is very simple to use. This temperature data logger can store up to 129,600 temperature data. Users can choose the appropriate model based on the item transportation time. Our company can provide 7, 15, 30, 60, 90, 120, or 180 days of available Fresh Tag 1 during use. , the failure rate is almost zero, the stability is very high, and it can be used with confidence.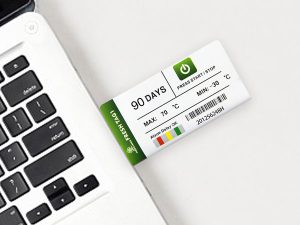 Fresh Tag 1 is very suitable for cold chain transportation of medicines, frozen foods, fresh foods, vegetables, fish, meat, etc. It is a very cost-effective shipping temperature recorder that can ensure a stable and suitable transportation environment for items. It can also provide Users with effective temperature data reports to ensure the quality of items. This temperature data recorder is currently very popular in the market and has a very high reputation among users. We can provide users with thoughtful pre-sales, in-sales, and after-sales services. If there are any problems during use, our technical staff will be at your disposal at any time. Answer for you!