BlueTag T10 Insulin Temperature Data Logger
Author:freshliance2023
2023-11-15
Insulin is a protein drug that is highly sensitive to temperature and needs to be kept at an appropriate temperature during storage or transportation. Storage or transportation at inappropriate temperatures may cause it to lose activity. Insulin often needs to be stored and transported under cold chain conditions, and temperature monitoring is also very important. BlueTag T10 Insulin Temperature Data Logger is a Bluetooth temperature data logger that is very suitable for storage and transportation temperature monitoring of insulin. It provides accurate and reliable ambient temperature data and is an ideal device for cold chain temperature monitoring of insulin and other drugs.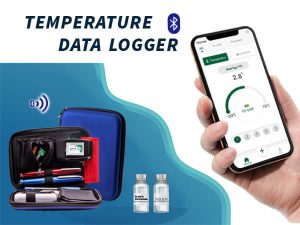 Insulin is a vital drug for diabetics, and proper storage can ensure its efficacy and safety. Insulin is best stored between 0°C and 8°C (36°F and 46°F). The storage and transportation of insulin require special equipment to keep its temperature appropriate, and many diabetic patients need to carry insulin with them. The BlueTag T10 takes up very little space and is very suitable for insulin temperature monitoring, whether it is a medicine cabinet, a medicine box, or a refrigerator. It is very convenient for patients to carry it with them. BlueTag T10 Insulin Temperature Data Logger is designed by Freshliance specifically for insulin. This product uses Bluetooth technology. Just download the T-keeper APP, scan the QR code on the product, and you can pair it immediately. The Bluetooth effective distance of BlueTag T10 Bluetooth Temperature Data Logger is 10 meters. When the storage temperature of insulin or growth hormone exceeds 2℃-8℃, your mobile phone will immediately receive a notification reminder, and you can hold the insulin in a constant and suitable temperature environment. This Bluetooth temperature data logger can view the real-time temperature data of the insulin environment through the mobile phone APP, and can also view the temperature data curve to analyze the temperature changes of the insulin environment.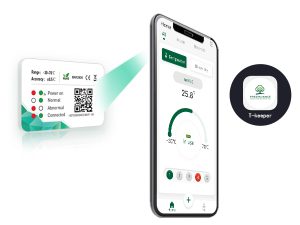 The Bluetooth temperature data logger can be placed next to the insulin to monitor and record the temperature in the environment where the insulin is located to ensure the effectiveness of the insulin. The Insulin Temperature Data Logger produced by Freshlianc can meet the temperature monitoring and recording needs of the entire process of insulin from production to cold chain transportation and storage. Its high sensitivity and high accuracy can provide users with accurate and reliable insulin environmental temperature conditions. Moreover, this Bluetooth temperature data logger is cheap and can be purchased by both businesses and individuals, we have after-sales service, so you can buy and use it with confidence!