Bluetooth Temperature Logger For Greenhouses
Author:freshliance2023
2023-09-13
As the global population continues to grow and the challenges of climate change arise, agriculture faces higher demands and greater pressures. As an innovative form of modern agriculture, greenhouse planting technology provides farmers with an efficient and sustainable planting solution. The so-called greenhouse cultivation must have certain requirements for temperature. Controlling the temperature and monitoring the temperature are very important technologies for greenhouse cultivation. Freshliance recommends the Bluetooth temperature logger for greenhouses because it can connect to your phone via Bluetooth and you can remotely view the temperature in the greenhouse without entering the greenhouse to make adjustments.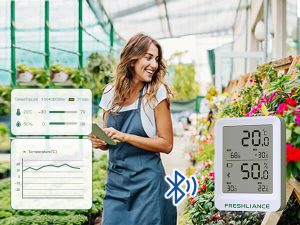 Greenhouses have many advantages, such as unlimited seasons, water conservation, reduction of pests and diseases, increased yield and quality, land use efficiency, etc. They have been used in vegetable planting, flower planting, fruit planting, seedling cultivation, etc. The reason why greenhouse cultivation is done is to consider the temperature factor. The growth and development of many fruits, vegetables, and seedlings are sensitive to temperature. Higher or lower temperatures will affect their growth. Temperature monitoring is essential for greenhouse cultivation. The TH20 HACCP Bluetooth Temperature and Humidity Data Logger launched by Freshliance is an instrument that can monitor both ambient temperature and humidity. It uses a HACCP temperature sensor and is connected to a mobile phone via Bluetooth. On the App software, you can quickly and accurately set various parameters of the product, and you can view the current temperature and humidity, maximum/minimum temperature and humidity values, and battery power in real-time on your mobile phone. You can view the data storage view online, and historical data can be exported in PDF or CSV format, there is no need to walk in or plug in a computer to view the data. If the temperature in the greenhouse exceeds the preset range, you will receive a notification reminder on your mobile phone and you can adjust the indoor temperature and humidity in time. The Bluetooth temperature logger for greenhouses is really convenient and simple.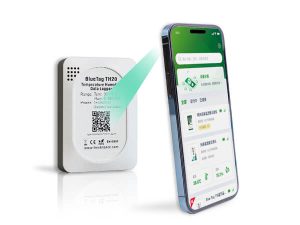 The emergence of greenhouses has brought many benefits to modern agriculture. It provides a stable planting environment, which is more conducive to plant growth. The Bluetooth temperature logger for greenhouses launched by Freshliance can help the development of the planting industry. We can also design reasonable greenhouse temperature and humidity monitoring solutions according to user needs, which can help users save more costs and improve the accuracy of greenhouse temperature and humidity monitoring. Welcome your consultation!