Biological Reagent Temperature Data Logger With Probe
Author:freshliance2023
2023-09-12
Biological reagents are indispensable for research and experiments in the fields of biological science and medicine. Many biological reagents are very sensitive to temperature. Higher or lower temperatures will have a great impact on biological reagents, so the storage and transportation of biological reagents are very important. Temperature monitoring needs to be done, and a temperature data logger with high sensitivity and accuracy should be selected, such as the temperature data logger with probe produced by Freshliance, which can monitor and record the environmental temperature of biological reagents in real-time to ensure the quality and activity of biological reagents.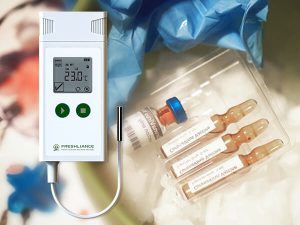 Biological reagents include enzymes, antibodies, nucleic acids, etc., and their activity and stability are usually affected by temperature. Temperatures that are too low or too high may lead to reduction or inactivation of enzyme activity. So many biological reagents are stored at low temperatures to extend their shelf life. For temperature monitoring of these temperature-sensitive items, a highly accurate temperature data logger must be used. Atlas Log-30 Multi-use Temperature Data Logger is a logger with an LCD screen, which can be directly used through the display screen. View all parameters, operating status, current temperature, alarm status, battery power, alarm points, maximum, minimum, and average temperature values, etc. The instrument can set up to 6 alarm points during the storage or transportation of biological reagents. If the environmental temperature of the biological reagent exceeds the set value, the alarm symbol (x) will be displayed on the LCD screen, and the buzzer will sound 60 decibels at 3m. The alarm sound can effectively remind the user to adjust the temperature to ensure the quality of biological reagents. This product comes with an external probe, which can be placed directly next to biological reagents to improve accuracy and sensitivity. The temperature data logger with probe accuracy can reach ±0.5°C (-30°C to +70°C) in the full range. For biological reagents, vaccines, and medicines It is said that the accuracy is very suitable and can ensure the temperature monitoring of these temperature-sensitive items.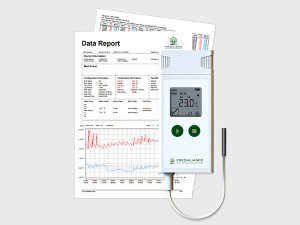 In scientific research and medical laboratories, monitoring and recording temperature during experiments is necessary. By recording and tracking experimental temperature data, the laboratory's quality management requirements can be met and the reliability and repeatability of experimental results can be ensured. The temperature data logger with probe produced by Freshliance can be used for sea or air transportation, distribution, storage, and freezing of biological reagents, vaccines, drugs, etc. to ensure the quality and safety of these sensitive items and promote the development of the medical and scientific industries.