High Sensitivity Temperature Indicator For Vaccines
Author:freshliance2023
2023-07-27
The vaccine is a kind of biological product to prevent diseases. It is introduced into the human body through injection or oral administration to stimulate the immune system to produce antibodies, thereby preventing the occurrence of certain infectious diseases. Vaccines need to be kept in a constant low-temperature environment from production, transportation, and storage, so a highly sensitive temperature indicator will be used to monitor the ambient temperature of the vaccine and clean up changes.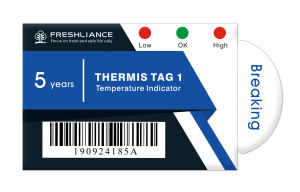 Vaccines must be stored and transported within a temperature range of 2°C to 8°C to ensure the quality and effectiveness of the vaccine. The storage and transportation of vaccines must use specialized cold chain equipment, such as refrigerators, refrigerated trucks, and refrigerated containers. In every process of the vaccine, the temperature needs to be monitored. The temperature indicator developed and produced by Freshliance is a high-sensitivity, high-accuracy instrument with a temperature monitoring range of -30°C~+70°C. Since it occupies a very small area, it can be directly attached to the product packaging, which is very suitable for the cold chain of vaccines. Moreover, users can easily configure the high and low-temperature alarm ranges according to the environmental temperature requirements for transportation or storage. If the ambient temperature of the vaccine is too high or too low, an irreversible alarm will occur, but the device will continue to record the ambient temperature until the end of the entire journey.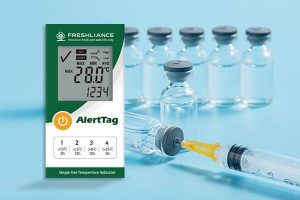 The standard of vaccine cold chain management is very strict. Freshliance launched the temperature indicator according to the market demand for vaccine cold chain management to meet the demand. High sensitivity and high accuracy can ensure the quality and effectiveness of vaccines. At present, we cooperate with many pharmaceutical and vaccine companies, and we have selected our different models of temperature indicators according to their needs. The customer feedback information is that the product performance is stable, and the generated data reports are clear and clear, which meets the needs!