Disposable Temperature Logger For Seafood Cold Chain
Author:freshliance2023
2023-08-01
With the improvement of people's living standards, seafood has become one of the important ingredients on people's tables. Due to the perishability of seafood and the difficulty of keeping it fresh, eating seafood in many countries or regions far from the sea is a problem. However, with the maturity of cold chain technology, seafood can be shipped to all parts of the world, and seafood can be eaten. The seafood cold chain disposable temperature logger is a very important device in the process of transportation and storage. It can monitor the temperature of the cold chain environment to ensure the quality and freshness of seafood.
First of all, cold storage refers to storing seafood in an environment of 0°C to 4°C, and secondly, freezing refers to storing seafood at a temperature below -18°C. Different seafood has different cold chain temperatures. The disposable temperature logger developed and produced by Freshliance monitors the temperature range from -30°C to +70°C, with an accuracy of ±0.5°C (-20°C~40°C), ±1.0°C (others), high accuracy allows seafood It is more stable in cold chain transportation and storage. According to the needs of the seafood cold chain itinerary, our company proposes working hours of 7 days, 15 days, 30 days, 60 days, 90 days, 120 days, etc., up to 180 days. After the trip is over, plug the recorder into the PC through the USB 2.0 interface to generate a non-modifiable data report in PDF format, which is more convenient for users to analyze the temperature conditions during the cold chain process clearly and intuitively.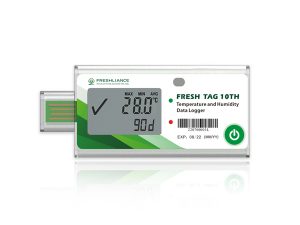 The seafood cold chain is crucial to ensure the quality and safety of seafood. Only through scientific and standardized seafood cold chain management can consumers choose and eat seafood with more confidence, and it can also provide a guarantee for the sustainable development of the seafood industry. The disposable temperature logger launched by Freshliance has many types and models, and it is also the most demanded and used in the market. We also support customization to ensure that every user can choose a logger that suits them!