Disposable Temperature Indicator Is Suitable For Drug Temperature Monitoring
Author:freshliance2023
2023-08-24
In the medical field, the quality and safety of medicines are crucial to the quality of patients. However, it takes time for medicines to be transported and stored, and medicines are highly sensitive to temperature, and lower or higher temperatures will affect the quality and effectiveness of medicines. Medicines are kept within an appropriate temperature range throughout the supply chain, so temperature monitoring is required throughout the supply chain. Disposable Temperature Indicator is very suitable for temperature monitoring of medicines.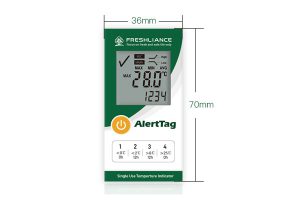 The pharmaceutical supply chain refers to the entire process from the pharmaceutical manufacturer to the final patient, covering production, storage, transportation, and distribution. Therefore, to achieve temperature monitoring throughout the process, it is necessary to purchase a suitable temperature monitor to accurately monitor the ambient temperature of the drug to ensure the effectiveness and quality of the drug. There are many kinds of equipment on the market that can be used to monitor the temperature of medicines. The reason why I would like to introduce the Disposable Temperature Indicator produced by Freshliance is because this product is highly sensitive, cheap, and occupies a small area. It can usually be pasted directly on medicines. on the package. This product can be programmed with up to 4 different alarm settings. When the temperature around the drug exceeds the preset temperature, the corresponding alarm points 1, 2, 3, and 4 will be displayed on the screen alarm, reminding the user to adjust the temperature in time to ensure the quality of the drug. During the alarm process, the instrument can monitor and record the temperature normally.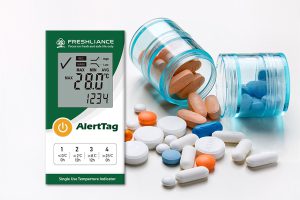 To ensure the quality and safety of pharmaceuticals, drug temperature monitoring should become a standard requirement throughout the supply chain. As an experienced supplier of environmental recording solutions, Freshliance can not only provide high-quality, multi-model Disposable Temperature Indicator but also design reasonable, optimized, and cost-effective drug temperature monitoring solutions according to user needs, so as to ensure that the temperature is effectively monitored and Control, so that the quality and effectiveness of medicines meet the requirements.