Airlines Allow Usb Temperature Humidity Data Logger
Author:freshliance2023
2023-08-30
With the development of the logistics industry, airline freight has become a fast and efficient mode of transportation. Compared with sea and land transportation, the price is higher, but the efficiency will be higher, and it is more suitable for some temperature-sensitive items. Many goods have strict requirements on environmental temperature and humidity during transportation, such as medicines, perishable fruits and vegetables, seafood, cosmetics, etc., if some cold chain treatment and temperature and humidity monitoring are required during air transportation. Temperature and humidity monitoring requires the use of professional equipment, such as a USB temperature humidity data logger, There is a problem here, Is the airline allowed to use it?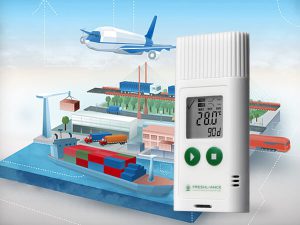 Airlines have strict requirements and controls on the transportation environment of cargo. They will use professional temperature control equipment to ensure that the temperature and humidity conditions in the cargo compartment meet safety standards. The temperature recorder is an essential equipment for airline cargo transportation to ensure that the temperature and humidity of the environment where the cargo is located meet the requirements. The TagPlus-TH LCD Temperature and Humidity Data Logger developed by Freshliance is a device specially designed for the temperature and humidity of the cold chain environment. The battery uses a 3.0V CR2032 lithium battery, which is very safe. It can not only use the USB port to plug into the computer or mobile phone to read the temperature data during the trip for analysis, but also can directly read the real-time temperature and humidity, the highest temperature and humidity, the lowest temperature and humidity, and the average temperature and humidity through the LCD display during the trip. Etc., you can better understand the temperature and humidity of the transportation environment, and make timely adjustments if there is a situation. The cargo owner can obtain the temperature and humidity data of the environment where the cargo is located through the recorder, and share these data with the airline.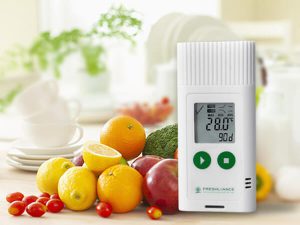 At present, many airlines have allowed the use of temperature data recorders for cargo transportation, which will help improve the quality and monitoring capabilities of the cargo transportation process, and promote cooperation and communication between airlines and cargo owners. Freshliance has launched a variety of models for airlines to use the USB temperature humidity data logger, and you can choose the appropriate model for different transportation needs. We will also continue to work hard to innovate, improve the performance and safety of each temperature data logger, and ensure the quality and safety of air transportation.