Usb Temperature Data Logger for Food Cold Chain
Author:freshliance2023
2023-08-28
With the rapid development of the food industry, cold chain technology is used more and more widely in the food industry. The function of the food cold chain is mainly to maintain the appropriate temperature conditions of food in the whole process from production to consumption. For example, common meat, seafood, vegetables, fruits, dairy products, etc. all need to use cold chain technology, and different types have different cold chain temperatures and humidity. USB temperature data logger is a relatively traditional temperature monitoring instrument in food cold chain technology. It can record the entire temperature of food in the cold chain process, so as to ensure the quality and freshness of food.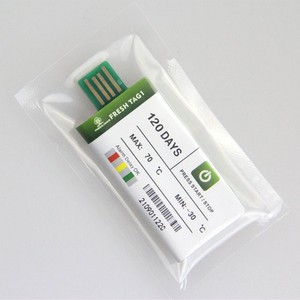 The food cold chain system can extend the freshness period of food. Some foods that are more sensitive to temperature should always be kept at a suitable and constant temperature. The cold chain transportation of food requires the use of special refrigeration equipment, the common ones are cold chain vehicles, cold chain containers, and incubators. The Fresh Tag 1 USB Temperature Data Logger produced by Freshliance has a small footprint, lightweight, good waterproof effect, The product is made of food-grade packaging materials, which can be directly pasted on the surface of food packaging. Food transportation distances vary. Freshliance has also launched Fresh Tag 1 which can be used for 7, 15, 30, 60, 90, 120, or 180 days according to market demand. After the trip, the product can be directly plugged into a computer or mobile phone Generate a pdf temperature data report. The reason why Freshliance tag 1 is very popular in the cold chain technology industry is because it is small, lightweight, cheap, and will not fail during use, so it can be used with confidence during the entire cold chain process.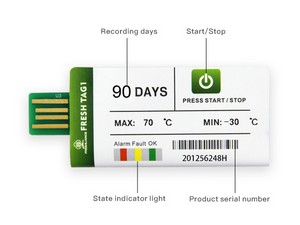 Provide consumers with fresh, safe, and high-quality food by controlling temperature, extending the freshness period, and maintaining food quality and safety. The USB Temperature Data Logger produced by Freshliance can be used in refrigerated trucks, cold chain containers, incubators, and freezers. It is a good choice for temperature and humidity monitoring in food, medicine, agricultural products, flowers, and many other fields. Many users want to buy a cost-effective temperature recorder. They should consider the performance while considering the price. Freshliance, as a professional manufacturer of temperature monitoring equipment in food and other fields, understands the market demand and launches each product with high-cost performance. , trustworthy!