Fresh Tag 1 vegetable USB temperature logger price
Author:freshliance2023
2023-11-08
As we all know, vegetables are a type of food that is very perishable because they are very sensitive to temperature. Too high and too low temperatures will affect the quality of vegetables. Therefore, in order to maintain their freshness and extend their shelf life, long-term storage and transportation of vegetables require professional cold chain management and temperature monitoring to keep them at a constant and suitable ambient temperature. The vegetable USB temperature logger is a kind of user's cold chain environment temperature monitoring and recording. It can accurately record the vegetable environment temperature and provide reliable vegetable cold chain temperature data to facilitate user analysis.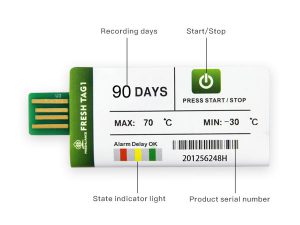 Because different vegetables require different ambient temperatures, investors must pay attention to temperature control in vegetable cold chain management. They must also choose a suitable temperature data recorder to monitor and record the vegetable ambient temperature to ensure that the vegetable ambient temperature meets the standards. Fresh Tag 1 provided by Freshliance is a model of vegetable USB temperature logger. This machine has a simple design and takes up little space. When transporting and storing vegetables, the temperature logger can be placed in the container or storage facility. In order to make it more convenient for users to analyze data after the vegetable cold chain journey, Fresh Tag 1 has a built-in PDF file generation function. By inserting the recorder into a PC through the USB 2.0 interface, an unmodifiable data report in PDF format can be generated. The device can store a large amount of temperature data, up to 129,600 data points, and the data logging interval can be set as needed. Because Fresh Tag1 has very high accuracy and stability, it can provide reliable and accurate data for the vegetable cold chain. Many users will worry that they cannot check the temperature during use and whether the temperature will exceed the limit. There is no need to worry about this because the device has an alarm reminder function. If the vegetable environment temperature exceeds the temperature range we set, then the device will The LED will flash red to remind the user to adjust the temperature in time.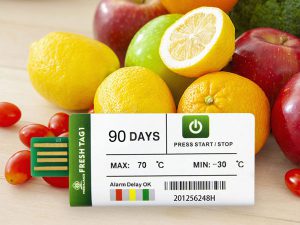 The cold chain is very important for the preservation and quality of vegetables. Of course, it is equally important to monitor and record temperatures. There are many types of vegetable USB temperature loggers provided by Freshliance. Their functions and performances are different, but they can stably monitor and record the ambient temperature of the vegetable cold chain supply chain, provide reliable and accurate temperature data reports, and ensure the compliance of the vegetable cold chain. And quality assurance helps a lot! Moreover, this temperature monitoring device is cheap. If you want to know more details about vegetable USB temperature loggers, you can consult online customer service!