Fresh Tag 1 USB Temperature Data Logger For Grapes
Author:freshliance2023
2023-10-24
Grapes are a very favorite fruit in people's lives. They have high nutritional value and good taste. But grapes are extremely susceptible to rot and deterioration due to the influence of temperature. In order to ensure the quality and taste of grapes, cold chain storage, and transportation are very important for grapes. Cold chain treatment is to reduce the ambient temperature and slows down the metabolic process of the fruit. Temperature data loggers are also used to monitor and record the temperature. Fresh Tag 1 USB Temperature Data Logger For Grapes is a very good choice because it is cheap, records data accurately, and can ensure that the temperature is constant without affecting the quality of the grapes.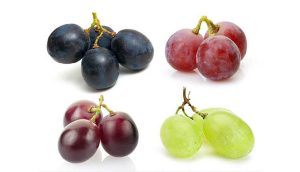 The optimal storage temperature for grapes is usually between 0°C and 4°C. High temperatures can cause fruit rot and moisture loss, while low temperatures can cause frostbite. The purpose of the cold chain is to keep grapes at a constant and suitable temperature during long-term storage or transportation. The Fresh Tag 1 USB Temperature Data Logger provided by Freshliance is a cost-effective recorder. It has a low cost, takes up little space, and is waterproof. It is very suitable for cold chain temperatures of fruits, fresh produce, vegetables, meat, etc. monitor. For Fresh Tag 1 USB Temperature Data Logger For Grape, Freshliance provides models with working hours of 7, 15, 30, 60, 90, 120, or even 180 days, which can be selected by users with different needs. Moreover, the equipment's monitoring and recording temperature range is -30℃-+70℃, the accuracy is ±0.5℃ in the full range (-30℃ to +70℃), and the maximum storage capacity is 129,600 groups, so the ambient temperature of grape storage and transportation is slightly different. Every change will be sensed recorded and stored in the device. After the trip, it can be connected to a computer through the USB interface to automatically generate a data report, providing good data evidence as to whether the quality of the grapes is affected by temperature during storage or transportation.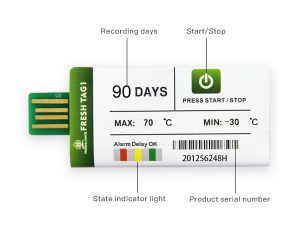 The cold chain system can also reduce the loss and waste of grapes and improve the efficiency and sustainability of the entire supply chain. The accuracy and precision of Fresh Tag 1 produced by Freshliance are far ahead in the same industry, and the product has a very good reputation. In addition to Fresh Tag 1 USB Temperature Data Logger For grapes, it can also be used for other fruits, vegetables, seafood, meat, and medicine.